Apart from Jay Talk - the more informal interview section on the Jay Graydon web site - where he talks with his fans and is interviewed by them or by webmaster from time to time, we have created this page for you, where we will post some of the interviews, which Jay has done both for print magazines as well as online e-zines, podcasts, and Zoom videos. So buckle up, music lovers, and get ready for an entertaining and educational journey into Jay Graydon land!
DECEMBER 2022
Tom Cridland and his crew revisited Jay in his studio and talked about e.g. the song ROXANN and other songs from his AIRPLAY FOR THE PLANET album, also touching upon playing and producing in the golden era of quality music, today's music industry issues etc.

NOVEMBER 2022
About TWILIGHT ZONE/TWILIGHT TONE
Jeff Babko interviews JAY GRAYDON about his recording of the original solo on Twilight Zone/Twilight Tone
The View From L.A. - Oct. 31, 2022 - JAZZ.FM91 - Jeff Babko

AUGUST 2022
The Producers Room Ep24 - Jay Graydon Pt1
"The Producer's Room with Dave Tough interviews Jay Graydon in this two-part video series. Jay is a two-time Grammy winner (he has actually technically won three times but his name wasn't put on one award as an arranger). In the 1970s and 1980s he was a 1st call studio guitarist working and recording alongside names like Tommy Tedesco, Steve Lukather, Dean Parks and Ray Parker Jr. He continues to work as a world-class artist, producer, arranger, engineer, and more out of his studio in Los Angeles. Jay has 12 Grammy finalist nominations including "Producer of the Year" (the year Thriller won) and is responsible for writing several huge hit songs of the 1970s and 80s including "After The Love Is Gone" (#1 for Earth Wind and Fire written co-written with David Foster and Bill Champlin) and "Turn Your Love Around" (a huge #1 hit with George Benson - co-written with Bill Champlin and Steve Lukather).
Jay is also an artist and a member of bands such as Airplay (with David Foster) and JaR (with Randy Goodrum). Jay shares his wisdom of all facets of the music production process Thanks to everyone who made this happen and thank you for supporting the Producer's Room with Dave Tough!"
The Producers Room Ep24 - Jay Graydon Pt2

MARCH 2022
YachtRock Podcast "OUT OF THE MAIN"
John and Tom were absolutely gobsmacked to welcome 12-time Grammy nominated, 2-time Grammy winning, and all around legend of music Jay Graydon to the podcast. Undeniably one of yacht rock's greatest talents, Jay shares his tales from yesteryear, reveals a few tricks of his trade, and dives deep into what he's up to today. Here below the podcast interview, which contains music drops and other audio...in three parts, plus the extended video (almost 2 hours long) posted first.
The Extended Video Interview
The Podcast In 3 Parts
EPISODE 22.2: SPECIAL GUEST, JAY GRAYDON
Highlights from Part 1:
The Grammy he earned but never received
His forthcoming YouTube channel and tutorials for budding engineers and guitar players
The curse and blessing that is Jay Graydon's ear
That time Marc Jordan gave Jay the finger
The fable of the Fender E Rhodes
How you can "play" the fabled E Rhodes today
EPISODE 22.3: JAY GRAYDON, PART 2
John and Tom continue their interview with Jay Graydon - composer, producer, session musician, artist...the list goes on and on.
Highlights from Part 2:
EPISODE 22.4: THE JAY GRAYDON GRAND FINALE
The third and final installment of our marathon conversation with yacht rock legend Jay Graydon - more stories, more insights, more laughs, more music...
Highlights from Part 3:
The story behind Jay's album Past to Present - the 70s
Working with (and without) Jeff Porcaro
You'll never guess who Jay says was the best singer he's ever worked with
More tricks of the trade
The classic "After the Love Has Gone" story...with some new details from Jay himself.
Make sure you check out the JaR project!

JANUARY 2022
Tom Cridland recently visited Jay at Garden Rake Studios for an extensive talk with on all things music.

NOVEMBER 2021
"A Talk About Producing, Recording, Drummers, Feel, The Click, Phase problems, Craftsmanship, The "E" Suitcase Mark I Rhodes, Dx7, Roof Garden, High Crime, Drum machines, The Golden Era of studio work, we touch it all!
I Had the pleasure to had this amazing conversation with my hero, Jay Graydon! Incredible guitarist but also Producer, Engineer, Mixer, Arranger, Songwriter. He produced/composed/Arranged/ Mixed/ Recorded the famous Al Jarreau Albums of the '80s.
Co-Wrote together with his musical partner David Foster the big Earth, Wind and Fire hit : After The Love Is Gone. And with Steve Lukather George Benson's hit Turn Your Love Around. And a lot more.
The Conversations featured the drums but we go also to other directions. We talk about Steve Gadd, Jeff Porcaro, Ralph Humphrey, James Gadson, Mike Biard. Also very specific about recording drums.
E Rhodes Plugin at Orange Tree Samples!
Chapters:

0:00 Intro
0:33 Steve Gadd Drumsound
2:18 Roof Garden
4:14 The Holy Grail
6:58 Another Steve Gadd Story
8:17 What makes Steve Gadd so Amazing!
9:44 Ralph Humprey
11:52 Drummers and Feel
17:02 Jeff Porcaro
18:16 Drumming with a Click
20:17 High Crime!
21:13 Drum Machines
22:42 Producing, Engineering, Mixing
26:34 Drum Recording ( Phase)
29:22 Mic The drums
33:28 Reverbs
34:55 Lee Sklar
36:19 The Golden Age Of Studio Recording
42:00 Future Plans
43:36 The "E" Rhodes and Plugin
50:52 Yamaha DX7
53:29 End Credids
We had a ball!" - Ruben van Roon

SEPTEMBER/OCTOBER 2021 INTERVIEWS
"Snippet from Full Interview. During my interview with the lengendary Jay Graydon we had a little chat about the drum-master JEFF PORCARO. He recorded as a producer the song "Mornin'" together with mr. Porcaro for the Al Jarreau Album. We talked about playing on a click and his feel and timing. Mr Graydon gave some specials answers. Surprisingly showing an other artistic side of him nobody knows! And talked also about the other drummers he worked with. Ed Greene, James Gadson, Mike Biard and Jr Robinson. Full Interview coming soon!" - Ruben van Roon
"Snippet from Full Conversation - Big Surprise! -2021. The next, In Conversation with... episode, will be with the amazing Jay Graydon. In this snippet he is talkin' about the amazing Steve Gadd. Jay Graydon is an very well known producer,songwriter, Gitarist, engineer,mixer,arranger from LA. he worked a lot with Steve Gadd on my favorite Al Jarreau records a.o.. We are talkin about Roof Garden his drum sound and some very nice story's. And he has a very special Steve Gadd item he wanted to share. Amazing." - Ruben van Roon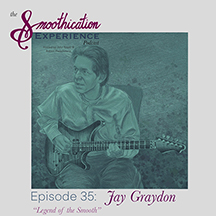 "This week we present one of the legends of smooth, Jay Graydon who is an American songwriter, recording artist, guitarist, singer, producer, arranger, and recording engineer. He is the winner of two
Grammy Awards
with twelve Grammy nominations, among them the title "Producer of the Year" and "Best Engineered Recording". Graydon has written over 200 songs. His catalog includes the Grammy winners "
Turn Your Love Around
" as performed by
George Benson
and
After the Love Has Gone
as performed by
Earth, Wind & Fire
, as well as "Who's Holding Donna Now" by
DeBarge
, "Friends in Love" by
Dionne Warwick
and
Johnny Mathis
, and many songs written with and for Al Jarreau including "Mornin'", "Breakin' Away", "High Crime", "After All", and "Roof Garden"."
Podcast by John Kraski & Robert Fleischmann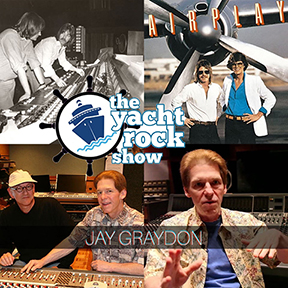 "We're back! And are we ever. The Yacht Rock Show podcast is back with the legendary producer and guitarist Jay Graydon. Put the kids to bed and listen to this special two part, 2 hour long conversation with this Yacht Rock catalyst and architect of a sound and style that he created with such acts as; Al Jarreau, George Benson, the Manhattan Transfer and hundreds more! We talk about his love of all things music and his reasons why rap is not quite his cup of tea."
"Parental Discretion Advised." - Eddie Ganz
On e.g. perfect vs relative pitch, vintage gear, the unofficial 3rd Grammy Award, the golden era of session work, the camaraderie among studio musicians, stories and stories and more stories ...

Extensive interview made by Ben Eunson, excellent guitarist and composer from Melbourne, Australia.
CHAPTERS:
01:24 1. Early Years: Ted Greene, Dean Parks & Tommy Tedesco
13:54 2. Session Days: Early Sessions, Airplay & Becoming a Producer
21:35 3. Signature Sounds: The "E" Electric Piano
34:24 4. Jay's "Wire Choir"
37:27 5. Producing vs. Playing
41:30 6. Al Jarreau: This Time, Breakin' Away & working with Jeff Porcaro
47:32 7. Jay's Session Documentary
50:39 8. Steely Dan: Dean Parks, Paul Jackson Jr. & The "Peg" Solo
54:29 9. Producing/Writing for George Benson
56:48 10. Producing/Writing for Herbie Hancock

DECEMBER 2020 INTERVIEWS!
An in depth interview with Guitarist, producer, songwriter Jay Graydon - Part 1. Interviewed by Preston Williams - Jazztalk.
An in depth interview with Guitarist, producer, songwriter Jay Graydon - Pt 2. Interviewed by Preston Williams - Jazztalk.
"The legendary Jay Graydon has a conversation with Tom about winning two Grammy Awards for "After The Love Has Gone", as made famous by Earth, Wind & Fire, and George Benson's "Turn Your Love Around" respectively. He lifts the lid on the sessions for Al Jarreau's classic record, "Mornin". He also discusses his incredible sample set, The Famous E Electric Piano, available now at jaygraydon.com. Jay will be starting an instructional Youtube channel in the near future, drawing on his many years of experience as a guitarist, songwriter and engineer at the very highest level."
Tom Cridland
- singer songwriter, podcaster and fashion designer.
"This episode's topic is the creation- and sampling-process of the virtual instrument Famous E Electric Piano. Our guests are Jay Graydon and Stefan and Peter Olofsson. Musician and producer Jay Graydon sampled the original hardware instrument and takes us through the steps of bringing it into the digital world."
Christoph Strauss - KEYS - Musik und Computer and Recording Magazin
November, 2020
Producer Urs Wiesendanger talks to Jay Graydon about producing records and his incredible career as a songwriter, arranger and engineer.
TWO INTERVIEWS BY JON LAMOREAUX AT THE HUSTLE!
July 18, 2020
Musicians, keyboardists, gearheads, lend us your ears! Jay Graydon is back to tell us the story of the famous E Electric Piano which was a sought after session instrument in the early 80s and how it's been sampled and is now for sale. He also discusses a new Youtube channel is starting where he will share tricks of the trade and we hear stories about David Foster, Ray Parker Jr. his approach to production, guitars, perfect pitch, and a million other things. Get to know how the mind of a musical genius works!
July 15, 2020
Jay Graydon is one of rock's most wildly successful multi-hyphenates. He was a first call session guitarist in LA for most of the 70s with one of his biggest claims to fame being the solo on Steely Dan's "Peg". He also wrote huge hits for artists like DeBarge, George Benson, and Earth, Wind and Fire, formed the fantastic, but short-lived band Airplay with burgeoning mega-producer David Foster, and then he produced huge albums by Al Jarreau, Patti LaBelle and Kenny Rogers. Not to mention, if you've seen him in the great doc Hired Gun, you know what a funny, honest guy he is. In this loose and sprawling conversation, we cover all of this and much much more including his interest in magic and bowling. Stories abound!
The New Year 2020 Special Interview at Inside MusiCast!
"While the rest of Los Angeles is sleeping, Jay Graydon is hard at work. His nocturnal schedule started when he was in high school and has persisted throughout his career, but this magical time of the day has afforded Jay with the creative timetable to write and produce countless gold, platinum and Grammy winning albums and songs. We last had Jay on the show ten years ago when we discussed various highlights of his career, so we're pleased to have him back to update us on several recent topics, including the new JaR album, his 'E' Model Rhodes project, some guitars from his collection that he's parting ways with, and so much more.
Inside MusiCast is pleased to welcome back Jay Graydon."
NEWSWEEK phone interview by Zach Schonfield
(external link) ...
"STEELY DAN'S 'AJA' AT 40: THE INSIDE STORY OF THE BAND'S MOST LEGENDARY GUITAR SOLO. This is the inside story of Steely Dan's relentless quest for one legendary guitar solo. The song in question was "Peg," which appeared on the massive-selling Aja album 40 years ago this week. (These firsthand accounts were provided to Newsweek in the form of phone or email interviews, with the exception of the quotes from Fagen, which are attributed to author Don Breithaupt's well-researched book about Aja.)"
The Rivera Interviews
A few months ago I did an interview with Paul Rivera Jr. about his dad noting the details of how and when I met Paul and all that followed as to how amp Rivera modifications started and continued. It is educational information and I think you'll enjoy the details.
Kerstin mentioned I forgot to include Larry Carlton as one of the key studio guitarists of all time. Man, when I started noting details, I was surely thinking of Larry but spaced as to mention him, so since I spaced out let me say this. Before any amp mods started happening in the 70's, Larry already had an outstanding tone (the best sweet midrange tone of all of us studio guitarists) with his 335 and Fender Princeton amp! Also, on most of the Steely Dan records, he used a tweed Fender Deluxe, which also sounds incredible! - Jay