August 13, 2009
Jay Graydon Interviewed in Performing Musician!!!


Jay is featured in the latest issue (Aug. 2009) of PERFORMING MUSICIAN. The first part of the interview is posted online, but to read the whole interview and see the pictures, you need to get the magazine from your nearest store carrying international music press. Please note there is a fact error in the feature. Jay's first solo album is called AIRPLAY FOR THE PLANET and nothing else. In the feature they are incorrectly mentioning one of the songs on that album - HOLDIN' ON TO LOVE - as the album title.

June 28, 2009
Jay Graydon in 3 Major Music Magazines!!!


Jay is featured in the May issue of the French magazine MUSIQ as well as in Scandinavia's number one and only guitar magazine FUZZ. JaR - SCENE 29 is featured the Summer issue of JAZZIZ in the ON DISC section with the song ESQUIRE. All magazines available in stores carrying international music press.

April 17, 2009
Jay and Foz Working on AIRPLAY!!!


How about some old pics from the AIRPLAY recording sessions back in the day?! Yea, I thought you would surely like that. So check out David Foster and Jay discussing recording issues while David Hungate is listening in the background (holding a coffee mug). The second picture shows Keith Olsen and Jay at the console when recording the basic tracks of the AIRPLAY album at Davlen Sound Studios in Sherman Oaks, California. .

April 13, 2009
Jay and Foz Dining!!!


Just wanted to share with you this wonderful picture of one of those rare moments when Jay Graydon and David Foster are able to find a time slot, when they can get together and grab a bite at Jay's favorite Italian restaurant (last week as a matter of fact.) Photo © Denise Marie Luko.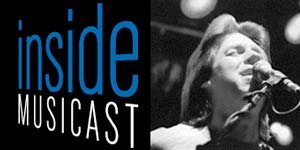 March 28, 2009
Live interview podcast with Jay Graydon at Inside MusiCast!!!


Jay is being interviewed by Eddy Cabello and Rick Such of Inside MusiCast and the full podcast is available in the following listening options: iTunes; Podtrac Player; Download MP3
The below is a facsimile from Inside MusiCast

---

Jay Graydon
Redefining Westcoast Music...One Hit A Time One thing we know about West Coast Music is that its following is much, much bigger than the name implies. It's more like Global-Coast Music, due to the fact that diehard fans are found at every corner of the globe. At the heart of it all you find a man who continues to stoke the fires of a sound that is a sophisticated mixture of R&B, Rock, Pop and Jazz – Grammy-winning Jay Graydon. His name is found in the credits of tracks and albums that have gone gold, platinum and even multi-platinum. With long-time collaborations with friends like David Foster, George Benson, Al Jarreau, and Steely Dan, Graydon has positioned himself as one of the most creative songwriters, producers, and session guitarists on the LA scene, while continuing to pave his own road with Nashville resident and writing partner, Randy Goodrum. They're the brains behind JaR, a collaboration of two of the best musical heads in the industry who have released 'Scene 29', an album that any West Coast Music fan most certainly has in their audio collection. From Airplay For The Planet to Earth, Wind & Fire's After The Love Has Gone, Graydon has delivered just what West Coast fans have asked for over the years. Inside MusiCast welcomes Jay Graydon. ENJOY!!!

February 15, 2009
Jay Graydon Goes Sinatra!!!


Now what on earth do we mean by that??? Well, actually we mean just what it says, as Jay is releasing a NEW recording - an excellent rendition of the Bloom/Mercer song DAY IN - DAY OUT - as performed by Frank Sinatra and the Nelson Riddle Orchestra, but in Jay's version with the amazing SHERWOOD BALL on vocals and JAY GRAYDON playing all the horn parts on guitar. Yea, you heard me - all the brass, sax, and horn parts are played by Jay on GUITARS! The title of this release is CRANK SINATRA - available as a digital download at CD BABY. Here is what Jay is saying about his recording experiment... So around the middle of 2008, I happened to watch a Frank Sinatra TV special filmed in the mid 1960's. The opening song is Day In – Day Out. As always, Frank sang great and the Nelson Riddle arrangement was perfect for the era! What a great team they were! I dug the musicality so much I watched over and over and then began thinking what it would sound like to play the horn parts on guitar playing one part at a time as an experiment. With that in mind, I decided to take on the task of being a one-man band. The experiment turned out to be much fun and the result is a sound of guitars I had not heard before. ----- So why Crank Sinatra? Well, in guitar land, I cranked up the guitar amp volume for the brass sound hence Crank Sinatra. - Jay Go to CD BABY and read Jay's full story on his fun experiment and check out the sound bite of this great recording! Now available as a digital download.

January 11, 2009
JaR - SCENE 29 Released in Japan with BONUS Track!!!


December 23, 2008
AIRPLAY - Airplay Now Available on SHM-CD!!!

Most of you do not need any further explanation about this CLASSIC masterpiece, which is now (2008) being released by BMG Japan in SHM-CD (Super High Material CD - playable on all CD players) pressing, but for anyone new to the genre, here is a fan review from Amazon on AIRPLAY. The No 1 Westcoast Album
By Catherine Goltz "a music lover" (Washington DC)
By "west coast" I mean music from California that is more adult contemporary not as in west coast rap. Or AOR (Adult Oriented Rock) as Japanese people call it. For starts two of the greatest producers of this style David Foster and Jay Graydon play, sing and write most of the songs. Two should be familiar "Nothin' You Can Do About It" originally on the Jay Graydon- produced Extensions and the EWF classic "After the Love Has (or is it "Is") Gone sung here by all three writers including Bill Champlin. Also joining in the fun is most of Toto, the horns from Seawind and Tommy Funderburk and Tom Kelly on vocals. It comes with an exclusive interview with the creators who comment on each song in the style of a DVD audio commentary.

December 20, 2008
STR and JaRZONE Records Songs Now on iTunes!!!
All songs released on SONIC THRUST RECORDS over the years, as well as all songs from Jay's current successful collaboration with Randy Goodrum as the new supergroup JaR, are now available as digital downloads from various third party services. We have provided you with direct links from each song to iTunes, to simplify the search for you, i.e. no search needed at all. Just click on the iTunes icon next to the song title and you will get to the downloading page on iTunes. For the SONIC THRUST RECORDS songs you will find those links on the label page and as for the JaR songs you will find them on the album page. In other words easy as pie to get instant music satisfaction. And oh, the video we promised you... I assume you have already found it since posted all over the place, but if not... here is the link to the YOUR HEARTBREAK video again. ENJOY!!!

December 9, 2008
JaR Now Available in MP3 Format!!!
| | |
| --- | --- |
| | Jay Graydon's current highly successful collaboration with top-notch songwriter and artist Randy Goodrum as the new supergroup JaR is getting raving reviews. Their debut album SCENE 29 has been topping the chart at CD BABY for several weeks and now it is also available as an MP3 download. Stay tuned for a very cool video from one of the JaR recording sessions coming up soooooon!!!!! ... and guess what, music lovers.... if we are really lucky we may get ONE MORE tasty recording from Jay before Christmas - an exciting experiment with guitars and a great singer and... naaah, my lips are sealed... keep hanging around and all shall be revealed as things unfold... |

November 6, 2008
Download Jay Graydon's Christmas Song!!!

October 1, 2008
JaR - SCENE 29 - now released!!!
As promised the long awaited masterpiece album - SCENE 29 by JaR alias JAY GRAYDON and RANDY GOODRUM - is now released and can be ordered from CD BABY!!!
| | |
| --- | --- |
| | Treat yourself to some really great music! If you typically rank your favorite albums according to the classic milestones - Airplay- AIRPLAY and Donald Fagen-THE NIGHTFLY, you will now have a NEW standard to measure music by - JaR-SCENE 29. Go listen to the sound bites of 5 of the songs and you will surely agree with Bill Champlin, who was totally stoked when hearing the JaR songs. Here is his comment: "JaR's new album, Scene 29, is gonna' be one of those albums that you can gauge your "I'm Hip" quotient by how much earlier you've heard it than your friends. I think this album will eventually be considered the flagship of the new music. The new music is what is created after the "suits" gave up on the "biz". Anyway, I've known these guys for years and I had no idea that this stuff was in there. Well, now it's out here and we're all happy about it. Man, it's rare to play an album and still have your heart racing an hour later, especially someone else's album. Good work, guys." - Bill Champlin Visit JaRZONE for more info on the band and the new album. |

September 25, 2008
JaR - SCENE 29 - now available for PRE-ORDERS!!!
It is with utmost pleasure and pride we can now announce that the new long awaited album - SCENE 29 by JaR alias JAY GRAYDON and RANDY GOODRUM - is finally available for pre-orders from CD BABY!!! Appease your hunger for awesome music by ordering it before we run out of the first batch! Here is another enthusiastic comment on the JaR album coming from guitarist/songwriter/producer and more - Tom Hemby... "I use to compare everything recorded in the past 20 years to Donald Fagen's "The Nightfly". Now there's a new industry standard for music, and it's called ... "JaR"! Jay's astounding guitar wizardry and Randy's stunning keyboard prowess is the crux of a project filled with brilliant complex harmonic compositions, ear candy smooth vocal performances, and thick transparent sounding mixes. This is soon to be "legendary" recording!"

September 12, 2008
JaR - SCENE 29 to be released October 1st in the US!!!
Yes, we are finally there... well... almost there anyway... JaR - SCENE 29 will be released on October 1st in the States and you will be able to pre-order it from CD BABY shortly. Meanwhile you may enjoy yourselves crusing around the new JaRZONE website where JAY GRAYDON and RANDY GOODRUM will post all news about the album and other interesting stuff. The album has 11 outstanding songs which will make every quality music lover teary-eyed with joy. Hey, how about Steve Lukather's raving about the album after having heard the songs... "You guys have taken the torch from Steely Dan and have run miles and miles ahead"!!! Need we say more? You won't believe your happy ears! Keep hanging around for the latest news on when SCENE 29 will be available for pre-ordering at CD BABY.

September 3, 2008
JaR Album Coming Soon!!!
In case you wonder where we disappeared... the JaR album is now at the manufacturing plant and we are looking at a release in a few more weeks. So, just hold on music lovers!!! This is the ONE album you will want to get for Christmas and we are currently working hard to make it possible, so keep hanging around for a pre-orders date being set very soon.

July 31, 2008
Jay Meets With Steely Dan!!!
Taking a short break from the arrangements for the release of the new JaR album (due in a few more weeks) Jay went to the Steely Dan concert at the Nokia Theatre in Los Angeles on July 23. As expected the performance was spectacular and here below are Jay's comments from the gig... If you like melodic pop with a hint of jazz, do yourself a favor and go to a Steely concert when they play in your area. As we know, such brilliant songs! Donald, Walter and the band is outstanding with performances that would make for an excellent live recording! The band is tight and feels great! The pitch was superb, especially the horns, which is not an easy feat. Simply ear candy! After the show, I spoke with Walter and Donald. We reminisced about the time we worked together and other fun stuff. I love these guys as they are so non-Hollywood down to earth gentlemen! - Jay A few pictures from the gig:

Jon Herington is the guitar player with Steely Dan and is perfect for the gig! He plays the parts like he wrote them and never overplays!!! Magnificent.

Michael Leonart is a great trumpet player!!! Freddie Washington is the bass player on the gig and is first-class!!! (aforementioned Jon Herington to the right) Greg Phillinganes is one of the best piano players of all time and a great friend!!! As to Walter no need to mention credits. He is a great guy!!! Photos © Denise Marie Luko.

June 19, 2008
Jay's Recording Articles Are Back!!!
The eagerly awaited relaunch of Jay Graydon's 32 articles on Recording The Guitar has finally happened and they are now up and running on the Guitar.com web site in their section Get Educated. Many of you have been asking for Jay's superb article series on all there is to know about recording, so now finally..... go get the direct links on the Gear & Studio page.

April 1, 2008
The JaR Album is FINISHED!!!
Jay Graydon and Randy Goodrum have now finished their first album as JaR. Two years of hard work, writing and recording new material, has resulted in an incredible set of songs with amazing melodies, subtle lyrics and outstanding playing and singing by these seasoned musicians and accomplished songwriters. I assure you - you will not believe your ears! Take Randy's dazzlingly virtuosic keys - add Jay's magical inventive guitar playing, plus both cats' voices in a perfect blend... and if you can imagine Steely Dan meets Airplay and Pages with some jazzy flavors as well, a touch of humor, strong catchy melodies with intelligent lyrical hooks - yea, there you have it!!! The mixing and mastering is done - now time to shop a deal! Stay tuned for more info as things unfold!

February 22, 2008
Jay Graydon Recording Sessions!!!
We have now added a new section to jaygraydon.net on which we will present all of the recording sessions Jay Graydon has participated on over the years... and let me tell you they are many many... On this page you will also find his fellow musicians on these sessions as well as a listing of the tracks on which he played - if known.

February 10, 2008
Jay Graydon and the Allstar Band in Japan!!!
Check out a movie clip from the JAY GRAYDON ALLSTARS BAND performing one of the encores - the TOTO super hit - PAMELA. Watch Jay Graydon and Sherwood Ball dueling on guitars, Bill Cantos scat singing, Bill Champlin grooving on his Hammond B3, Steve Porcaro dancing and more...
In brief... E N J O Y and feel the M A G I C that was in the air that first night in Japan.

January 17, 2008
The DVD is available at HMV Japan!!!
Since many of you have been inquiring - yea, the DVD has not reached Amazon.com yet for some reason - it seems importing the DVD takes tiiiime... but in any case both versions are currently available at HMV Japan. The good news is that if WARD Records finds a good distributor in Scandinavia it will be even easier for all of Europe to get the DVD as well. Let's hope they will find one soon!

January 9, 2008
The DVD Japanese ad - now in English!!!
WARD Records has now translated their Japanese one-sheet ad on the Jay Graydon Allstars Band for all of us. Read all about it! (pdf format)

January 6, 2008
Update on the DVD!!!
Thanks for all of your comments and kudos regarding the DVD! Just a clarification regarding the sound and filming quality of this totally live production. Like we said earlier this concert video was never intended for commercial release, but after many requests Jay Graydon has finally agreed to release it - after all these years. In other words, this video captures a very rare and unique concert with some of the greatest musicians ever, in a raw and totally live environment, as filmed using one camera only and the sound emanating directly from the live board mix. Statement from WARD Records regarding the release:
When watching the product please bear in mind that the footage used was originally meant for personal archive purposes and never was intended for a public release. Therefore it is a single camera shooting from the audience (probably the FOH console area), and not a so-called "pro-quality" shot done by a professional camera crew. Some of the Japanese press only mentioned about the quality of the video being poor, which is very unfortunate because we believe that this particular video is a record of a very special and precious moment which may never happen again and we only wanted the public viewers to enjoy the magic that Jay and his friends performed for us. I personally believe that music lovers of Europe and the US would be able to appreciate the true value of this product and not be concerned about little facts like how it was shot. We've done the best we can to enhance the video and audio. REVIEW by Takeishi Ito AKA Takeito - Westcoast music guru and AOR expert with great web site - Adult Contemporary Music In Japan. Takeito gives the DVD 4,5 stars out of 5! You need to scroll down a bit on his Monthly Recommended Discs page. The album released in conjunction with this tour - AIRPLAY FOR THE PLANET - is available at CD BABY.

December 9, 2007
Latest News on the DVDs!!!
There will be 2 versions of the DVD - the Normal Edition - (1 DVD+12pg booklet) and - the Special First Press Limited Edition - (1 DVD+2 CD+24pg booklet). The 2 CDs are the board mix audio from the concert. Both DVD editions include an interview session with Jay and Kenji Sano (bass player) looking back at the show. While waiting for the release you might enjoy checking out a few pics from the video! BTW the tracks list on the DVD is as follows. As you can see there are many great songs, not only from AIRPLAY FOR THE PLANET but also a few TOTO and Bill Champlin tracks.

01. CRIMINAL
02. SATISFACTION
03. SHE JUST CAN'T MAKE UP HER MIND
04. HOLDIN' ON TO LOVE
05. WALK THE WIRE
06. AFTER THE LOVE HAS GONE
07. FIRST AND LAST
08. INSINCERE
09. IN THE HEAT OF THE NIGHT
10. BABY, BYE BYE
11. STEVE PORCARO, BILL CANTOS, JOHN VAN TONGEREN, KEYBOARD SOLO
12. WHEN YOU LOOK IN MY EYES
13. ROXANN
14. NOTHIN' YOU CAN DO ABOUT IT
15. BAND INTRO
16. TURN YOUR LOVE AROUND
17. PAT MASTELOTTO DRUM SOLO and KENJI SANO BASS SOLO
18. SHOW ME THE MAGIC
19. PAMELA
20. STRANDED

November 23, 2007
Pre-order Your Copy Of The Jay Graydon Allstar Band DVD!!!


| | |
| --- | --- |
| | The release date for the DVD with the 1994 concert (1st night) in Japan from the Japan/Scandinavia Tour with the Jay Graydon Allstars Band is scheduled to Dec. 18th in Japan by Ward Records, but you may NOW pre-order your copy at Amazon.com!!! There will be 2 versions of the DVD - one is just the DVD and the other will also have an extra CD with the audio from the gig as well. Amazon.com has not stated (yet) which is which of the 2 versions they have for pre-order, but an easy way of finding out is to compare the price for the 2 different versions, when it becomes available, since the one without the supporting audio will be cheaper - of course. WARD Records are saying that "Our NTSC version is going to be released in REGION 0", meaning playable in all regions. All region code flags are set, making the disc playable worldwide. The line-up on this tour was, apart from the band leader, Jay Graydon, on guitars and vocals - Bill Champlin (vocals, of course, guitar and Hammond B3), Bill Cantos (vocals and keyboard), Sherwood Ball (vocals and guitar), Steve Porcaro (keyboard and synths), John Van Tongeren (keyboard and synths), Pat Mastelotto (drums), Kenji Sano (bass) and Joseph Williams (vocals). More on this as things unfold. The album released in conjunction with this tour - AIRPLAY FOR THE PLANET - is available at CD BABY. |

September 23, 2007
Live gig on DVD to be released!!!
While we are waiting for Jay's new album - approx. release around April 2008 - we will have the wonderful opportunity to attend the 1994 concert (1st night) in Japan from the Japan/Scandinavia Tour with the Jay Graydon Allstars Band as this gig will be released on video on Dec. 5th in Japan by Ward Records. The line-up on this tour was, apart from the band leader, Jay Graydon, on guitars and vocals - Bill Champlin (vocals, of course, guitar and Hammond B3), Bill Cantos (vocals and keyboard), Sherwood Ball (vocals and guitar), Steve Porcaro (keyboard and synths), John Van Tongeren (keyboard and synths), Pat Mastelotto (drums), Kenji Sano (bass) and Joseph Williams (vocals). More on this as things unfold. The album released in conjunction with this tour - AIRPLAY FOR THE PLANET - is available at CD BABY.

July 13, 2007
Part 2 of Ken Volpe's interview with Jay Graydon!!!
In Part 2 of Behind The Scenes with Jay Graydon - Ken and Jay discuss over the phone some of Jay's favorite guitarists; Joe Pass, Allan Holdsworth, Ted Greene, Phil deGruy, and Lenny Breau. They move on to cover what life is like as a professional musician and a producer. Lastly, they dig into the all important topic of microphone placement to capture great guitar tones in the studio.

June 25, 2007
Listen to a LIVE telephone interview with Jay Graydon!!!

Ken Volpe and Jay Graydon in a telephone conversation - April 2007:
In Part 1 of Behind the Scenes with Jay Graydon - the legendary guitarist, recording artist, songwriter, producer and engineer - Ken and Jay discuss how he got started as a musician, his mentors, preferred styles, and the details of how he wound up playing a classic guitar solo on Peg by Steely Dan. Jay deconstructs the solo and takes you through how he approached playing over the changes that others in the band weren't comfortable with. Jay also talks about the studio work and guitar solos that he's proud of that can be heard on other big records.

April 14, 2007
Buy digital downloads!!!

Individual tracks of Jay Graydon's music released on SONIC THRUST RECORDS are now available as digital downloads from Jay's web sites. Visit our SNOCAP store at jaygraydon.net or check out Jay's Myspace for purchase. Sound bites available for all tracks. More tracks will be added later on.

April 10, 2007
Jay working on a NEW album!!!

Yes, it is REALLY TRUE!!!! The rumors some of you have heard buzzing in the air for some time now, are in fact not just rumors. Jay Graydon is currently very very busy in his studio working on a new album with TOTALLY NEW MUSIC, written and recorded together with renowned songwriter Randy Goodrum. As I am sure you already know, Randy Goodrum has written a bunch of hit songs over the years, including IF SHE WOULD HAVE BEEN FAITHFUL (Chicago) with Steve Kipner, and WHO'S HOLDING DONNA NOW (DeBarge) with Jay Graydon and David Foster. This new upcoming CD is superbly crafted, loaded with original, sophisticated and catchy songs, with interesting melodic hooks paying close attention to sonic detail as always when Jay creates music. Anyone into the Steely Dan sound will surely love the subtle harmonic structures and clever lyrics. At this point Jay has begun working with the time consuming mixing process, and there is so much work to be done before Jay and Randy will consider the album ready to be devoured by us starving music lovers. In a few months time we will have come a lot closer to the release of some really GREAT music, that is for sure!!! So stay tuned for more news as things unfold!

March 3, 2007
Jay Graydon Interviewed In Upcoming Movie!!!

Jay Graydon is interviewed in filmmaker John Vizzusi's documentary movie - "ELECTRIC HEART- the Man, his Times & his Music" about Don Ellis. Don was an American jazz trumpeter, drummer, composer and leader of big bands who consistently explored the area of unusual time signatures. He was the first to create a fusion between jazz-rock and classical music.The Don Ellis music style can be described as experimental post-bop jazz. During and briefly after his college days Jay Graydon played in the renowned Don Ellis Band for a period of time. Read more about Don Ellis and the Don Ellis Tribute Band which did a tribute concert at the Whisky A Go-Go in West Hollywood in December 2005, on the occasion of the 27th anniversary of Don's passing away. Here you may also watch a clip from the film which is premiering in April 2007, and has many testimonials from musicians, who worked with Don Ellis.

January 5, 2007
Jay Voted 2nd Favorite Guitarist In The World!!!

In the latest issue (Nov.2006) of the Japanese music magazine "ADLIB" (covering Adult Contemporary Music, Jazz, R&B...) Jay Graydon was voted the second favorite guitarist in the world by the readers and his latest album Past to Present - the 70s (2006) was ranked as number 9 of the favorite albums.


ADLIB (Swing Journal, Japan) 26th Reader's Poll

FAVORITE GUITARIST

Larry Carlton
Jay Graydon
Lee Ritenour
Pat Metheny
George Benson
Jeff Beck
Steve Lukather
Eric Clapton
Al McKay
Buzzy Feiten

FAVORITE CD

Stevie Wonder/Time To Love
Michael Franks/Rendezvous In Rio
Chicago/Chicago XXX
TOTO/Falling In Between
Donald Fagen/Morph The Cat
Il Divo/Encore
Joe Sample&Randy Crawford/Feeling Good
Prince/3121
Jaco Pastorius Big Band/Word Is Out

December 3, 2006
LAUNCH OF OUR SISTER SITE JAYGRAYDON.NET!!!

Welcome to our sister site jaygraydon.net which now is launched in full. Check out lyrics, pics, sound bites, video performances, sheet music, articles and other stuff that is interesting and Jay Graydon related. New features will be added from time to time - so keep hanging around!

October 14, 2006
JAY GRAYDON WRITES FOR EQ MAGAZINE!!!

After the appraised article series on Recording the Guitar for Guitar.com a while back Jay will once again share his expertise in all things recording with us in a new set of articles written for EQ Magazine. Please join us for an exciting and educational journey into recording land guided by our host Jay Graydon. As most of you already know Jay Graydon is twice Grammy awarded with 12 top five Grammy finalist nominations, among them are for instance the winning R&B songs AFTER THE LOVE HAS GONE and TURN YOUR LOVE AROUND and the nominations for e.g. the prestigious title "Producer of the Year" as well as a Grammy top five finalist nomination for "Best Engineered Recording". Jay's profound knowledge of recording, engineering, songwriting, arranging, producing and related areas, has rendered him deep respect within the music industry and he has been called in as a beta tester of music gear a number of times by leading music equipment developers. Jay's music expertise comes from a deep well of experience - recording sessions from his career over the years and a desire to share his know-how with everyone who is seeking knowledge on how to develop his/her skills within the quality recording area. First article in EQ Magazine deals with Recording Acoustic Drums Also available in the print edition of EQ Magazine for September 2006.

July 12, 2006
JAY GRAYDON MESSAGE FORUM LAUNCHED!!!

Welcome to our message forum! Feel free to post a message, start new threads and/or respond to music related issues of your interest and share your thoughts in music and recording land. Jay has started a few threads for us and will also join the discussions when time allows. You are invited to join the forum and discuss music issues with others. From time to time I will hang around and join the discussions as well. Feel free to post new threads and hey, please keep it clean and music related, guys. - Jay Graydon

July 11, 2006
Past to Present - the 70s - NOW with BONUS track!!!



KING RECORDS, Japan, is releasing Past to Present - the 70s with an instrumental bonus version of IT'S RIGHT TO BE IN LOVE. The catalog number is KICP-1176 and the release date for this album is set to be August 23, 2006, but you may pre-order your copy at Amazon now...





June 5, 2006
SONIC THRUST RECORDS AT RETAILERS !!!

Jay Graydon music released on his own record label - SONIC THRUST RECORDS - is now available to order from retail stores all over the world. Our national distributor CD BABY has a partnership with one of the largest one-stop distributors in America - Super D One-Stop.
Their database is sent to over 2400 retail stores around the world and any store can buy albums through Super D. IOW even if you do not find your local favorite store listed here, you can tell them to contact Mark Grindle at Super D to set up an account.


June 1, 2006
GUITAR WORLD FEATURES JAY GRAYDON!!!

JAY GRAYDON is featured in the July 2006 issue of the music magazine GUITAR WORLD (circulation: 200,000 and counting... at newsstands June 6). David Konow has written an article for GUITAR WORLD about the studio musicians scene of the '70s and 80s and interviewed Jay about his career as a first call session ace guitarist. This is a story about the great guitarists who came out of the studio scene, the albums they played on, the whole shebang, or in short, a look back at a very important time in music history. In this interview Jay says he hopes he "passed along some information that becomes educational for you future studio guys." and concludes by saying "keep the fellowship of string benders alive in creative land!" Enjoy the interview in full in the GUITAR WORLD July 2006 issue!


May 3, 2006
JAY GRAYDON MUSIC STORE NOW LAUNCHED!!!

On request we have now launched the Jay Graydon Music Store - an access point for purchasing albums with songs Jay Graydon has written to date. We are happy to now be able to offer many of you a way of buying Jay's music in your own currency and without needing to pay for overseas customs. Individual links for online stores in the United States, Europe and Japan are provided on the page for each album. Sometimes the artwork or tracks listing on the releases may differ somewhat and the releases may be specific for the area, but in any case Jay Graydon's song(s) are included on all of the albums listed. Not all albums are available in all areas at this point, but more and more are getting added. There are sound samples available for most of the songs as well. As more songs and albums become known to us and available at these 3 online stores, they will of course be added. If you are looking for albums on which Jay has participated in his many other roles, e.g. as a guitarist, producer, arranger and more, please consult his complete discography for info and purchase links.


Welcome to check out the JAY GRAYDON MUSIC STORE!

March 2, 2006
THE NEW ALBUM IS NOW RELEASED!!!

Jay Graydon's latest album Past to Present - the 70s is now released and available at CD BABY! These recording sessions, original stuff from the 70s, are previously never released. Listen to a few sound bites from the album at CD BABY, featuring Jay singing on two of the songs (IF THERE'S A WAY and YOU CAN COUNT ON ME) and Bill Champlin on one - an alternate version of WHAT GOOD IS LOVE. Bill is also singing lead vocals on another never before released song - IT'S RIGHT TO BE IN LOVE - and like we told you earlier the album features the session aces from the 70s era and from any era - just check out the list below on the participating musicians and vocalists...

Musicians and Vocalists:
GUITARS: Jay Graydon
KEYBOARDS: Jay Graydon, David Foster, Greg Mathieson
DRUMS: Jeff Porcaro, Willy Ornelas, Mike Baird, Ralph Humphrey
BASS: Jay Graydon, Dave McDaniel, David Hungate, Mike Porcaro, (most likely David Shields)
VOCALISTS: Jay Graydon, Bill Champlin, Ed Whiting, Marc Jordan, Tata Vega, Lisa DalBello, Nettie Gloud, Carmen Twillie
SONGWRITERS: Jay Graydon, David Foster, Bill Champlin, Harry Garfield, Marc Jordan, B. J. Cook Foster

Read Jay's extensive liner notes, i.e. the full story on the recording sessions. The album Past to Present - the 70s is now available at CD BABY!

December 18, 2005
AWESOME NEW ALBUM IN 2006!!!

Listen up music lovers - in mid to late February 2006 Jay will release a NEW album that will knock your socks off!!! All songs on this upcoming album are transferred from analog masters, recorded by Jay and Co. in the 70s, into a digital masterpiece of quality music and this is as close as it will ever get to another AIRPLAY album!!! How about that???!!! This new album - Past to Present - the 70s - features Jay Graydon on vocals, guitars, bass and some synth stuff; great singers such as Bill Champlin, Marc Jordan, Tata Vega, Lisa DalBello, Ed Whiting and more. On all tracks other musicians include such top names as David Foster, Jeff Porcaro, Mike Baird, David Hungate, Mike Porcaro, Greg Mathieson, to name a few. The album will have around 20 tracks and this stuff has never been released before. Apart from the 10 main songs, there are near 10 more bonus songs - fun stuff like TV themes, a jingle, and a few instrumental tracks of some of the first 10 songs. Jay says about his new album...
"If you are interested in hearing great singers, musicians, and songwriters that had surfaced as "top notch" in the 70s during the beginning of their professional careers, you will enjoy the CD." Keep hanging around the web site for the latest news on the release date and purchase info for Jay's amazing new album - Past to Present - the 70s!!! This is the one album you will want to own in 2006!

August 21, 2005
AIRPLAY 25th Anniversary album is here!!! Photo © Ian Eales - March 23, 2005. Thanks, Pal!!!


The album is now released and available via Jay's web site. In the liner notes there is an exclusive interview with Jay Graydon and David Foster together at David's Malibu mansion. Toshi Nakada of COOL SOUND interviewed them both in March 2005 and Ian Eales (Grammy nominated engineer, one of Jay's best friends and David's brother-in-law) took this picture. A new interview with Tommy Funderburk is also added. So order your copy of the special edition directly at Amazon.com. BTW this 25th Anniversary album sometimes has the title ROMANTIC.



All written material, all images and photos in all sections of this website copyright © Jay Graydon/KEO 1996 - 2013. All rights reserved. Comments, suggestions, appreciation, corrections... whatever... talk to us.

Intro Page

E-mail us!